Welcome to the Newnan Kennel Club Website!
MEMBER - American Kennel Club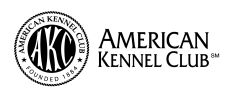 Our organization consists of about 50 individuals interested in purebred dogs. These include breeders, exhibitors, and interested dog owners. We are based in Newnan, Georgia, approximately 30 minutes south of Atlanta's Hartsfield-Jackson International Airport, however, many of our members live in the surrounding area of Fayetteville and Peachtree City.
About Our Site:
This site is designed for our community, our members, and other dog show exhibitors. The Club information section includes meetings, programs, and other events. Check out the Events Section for information regarding our Clubs AKC licensed events. Browse through our History and Archives to view pictures of past winners.
UPDATED 03/02/2014

SPRING MATCH
(CLICK THE THUMBNAILS BELOW)
BEST PUPPY IN MATCH BEST ADULT IN MATCH
Akita ( Co Co ) owned by James Taylor Dalmation ( Ranger) owned by Karen Seriana

High In Match (picture not available)
Bichon Frise, male, Louie, score 189 Beginner Novice class owner is Dinah Titus

2014 Spring Match Candid Pictures

The date of our Annual Awards Dinner/ Election of Officers and Board of Directors has been changed to Wednesday May 14th. The location is the White Oak Country Club. This facility was not available on May 7th, therefore the Board voted to move this meeting date. Please mark your calendars accordingly. Further information to follow. Thank You!

March 29th: Newnan Kennel Club Spring Show

Premium List

Jack Onofrio Dog Shows.

CLOSING DATE: 03/12/2014
UPCOMING MEETINGS
Location & Time of all meetings unless otherwise noted:
Golden Corral (small meeting room) - Newnan, GA
7:30 Come early to eat
March 5, 2014 - General Meeting & Program


Stacy Andrew, DVM -"Common eye problems in dogs and what to do about them"
April 2, 2014 - Board Meeting
May 14, 2014 - Annual Meeting, Election of Officers and Board of Directors
Location & Details later
Enjoy our site, and return often. Contact us by Email with your questions and comments.
Mailing Address: P.O. Box 1175, Palmetto, GA 30268
webmaster@newnankennelclub.org


03/04/2014