Welcome to the Newnan Kennel Club Website!
MEMBER - American Kennel Club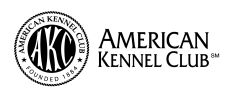 FUN THINGS TO DO WITH YOUR DOG! CLICK THE LINK BELOW.

AKC Videos
Our organization consists of about 50 individuals interested in purebred dogs. These include breeders, exhibitors, and interested dog owners. We are based in Newnan, Georgia, approximately 30 minutes south of Atlanta's Hartsfield-Jackson International Airport, however, many of our members live in the surrounding area of Fayetteville and Peachtree City.
About Our Site:
This site is designed for our community, our members, and other dog show exhibitors. The Club information section includes meetings, programs, and other events. Check out the Events Section for information regarding our Clubs AKC licensed events. Browse through our History and Archives to view pictures of past winners.
UPDATED 05/22/2015
SPRING SHOW 2016
(Pending AKC Approval)
The Newnan Kennel Club Spring Show will be held with the "Crossroads of Georgia Cluster" at the Georgia National Fairgrounds and Agricenter on May 11th, 2016. Our Show will be on Wednesday, which is the first day of a 5 day cluster. Thursday is the Columbus Kennel Club Show, Friday is the Southeast Alabama Kennel Club Show and Saturday and Sunday are the Macon Kennel Club Shows. There will be 5 days of Obedience and Rally as well as Conformation. We look forward to joining this Cluster, which will be the first 5 day All-Breed Shows, & Obedience & Rally Trials in the State of Georgia!
UPCOMING MEETINGS
June 3, 2015: Board Meeting
July 1, 2015: General Meeting and Program
USDAA National Detection Dog Training Center - "2 speakers and a demo dog"
Location & Time of all meetings unless otherwise noted:
Golden Corral (small meeting room) - Newnan, GA
7:30 Come early to eat
Enjoy our site, and return often. Contact us by Email with your questions and comments.
Mailing Address: P.O. Box 1175, Palmetto, GA 30268
webmaster@newnankennelclub.org


05/22/2015